Most creatives (or any person trying to figure it out) have a meantime, in-between time job. This is either a full time or part time job worked to simply keep the lights on. The best advice is to look at this job as your temporary, side gig and view what your heart truly desires as your permanent, full time job. I have come across a lot of people who refuse to get meantime, in-between time jobs, because they don't want to lose themselves in the corporate world or alter their style of dress for 8 hours.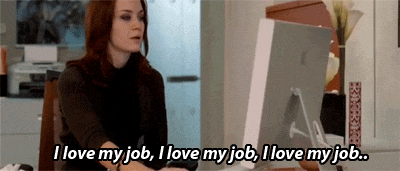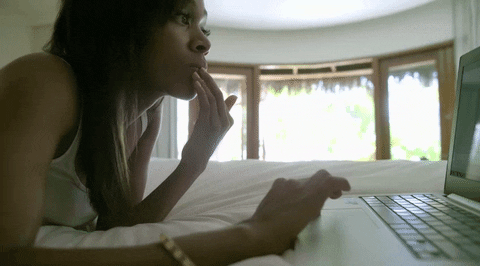 As a result of this mindset, they are forced to struggle unnecessarily.
It is a common misconception that all corporate jobs require stuffy suiting, but most companies prefer business causal or just casual attire. This is especially true if you are the front desk receptionist or administrative assistant. There most likely won't be any high-level meetings that require your attendance during your meantime, in-between time job. So use this as an opportunity to show your personality and sense of style by incorporating the listed merchandise and colors in your wear-to-work wardrobe.
1. Loose Trousers
Women are advocates for being cute and comfortable.
Palazzo pants, guachos, and culottes are extremely stylish and versatile. It is no secret that women love to be stylish yet comfortable, and these trousers will allow you to do so. The loose fit provides the perfect silhouette that can be dressed up or dressed down. The material for these pants range from cotton to crepe, and can be paired with flats, heels, and sneakers. Most recently, Madewell released the Emmett Wide-Leg Crop Pants. Additionally, you can purchase J. Crew's Wide-leg Crop Pant in 365 Crepe or Topshop's Wide Leg Striped Trousers. Don't let a shorter height deter you from trying this style, as most stores offer petite sizing!
2. Gen Z Yellow
The perfect color to include in your wear-to-work wardrobe.
Remember those rain boots you had as a little kid? Yes, those. I wouldn't suggest wearing the rain boots to work, but try Topshop's Double Breasted Suit Jacket, Zara's Faux Leather Biker Jacket, or the White Mark Solid Midi Skirt from Kohl's. If you are uncomfortable with such a bright color, it is important to remember that this color does not have to be featured only on clothing. Gen Z Yellow will be just as eye-catching on earrings like J. Crew's Beaded Drop-Hoop Earrings, Free People's Slouchy Vegan Tote, or the Odila Sandal by Sam Edelman.
3. Sneakers
Sneakers are no longer reserved for "Casual Fridays."
Add a pair of sneakers to a suit that incorporates the first recommended item, loose trousers, or a suit with a classic fit. The fun thing about suiting is the multiple offerings of patterns and colors. This makes suiting perfect for sneakers. It is best to wear a crisp, white sneaker like the Nike Classic Cortez or sneakers that have a subtle pop of color like the Adidas Stan Smith Sneakers. Another item to add to your suiting and sneaker combination is a white t-shirt.  Lastly, sneakers probably will not work in the office of an attorney or doctor, so please be mindful when attempting to incorporate this footwear into your meantime, in-between time job.
Struggling unnecessarily will not only drain you creatively, but mentally and emotionally as well.
Fellow creatives may tell you differently, but there is absolutely nothing wrong with securing your corporate bag at your meantime, in-between time job. The 4 walls you are surrounded by for 8 hours will not define you, nor will these 4 walls drain your creativity. With that in mind, don't overlook temporary opportunities, and incorporate the recommended items into your wear-to-work wardrobe.